Info and training materials
Winners of the SYNERGY challenge "HOUSE OF THE FUTURE" – Design and prototype model pilot action
Winners of the SYNERGY challenge "HOUSE OF THE FUTURE" – Design and prototype model pilot action
Categories
Crowd innovation
Innovation Campaigns
Success stories
The Challenge:
Call for development of a house ornament, object or piece of furniture with possibility of integration of advanced technologies (sensors, AI) that can help people with everyday activities and improve their quality of life.
The winning projects:
- 1° - Eg's by Mario Jukic and Robert Petrusic (163 likes) - Croatia
- 2° - The intelligent clothespin by Aristotelis and Ender (162 likes) – Germany
- 3° - Smart lock by Power ranger (149 likes) - Italy
The Solutions:
EG's: In the evade of reducing unnecessary kitchen appliances we have developed small manual mixer. The product has minimalist egg shape design to visually adjust to the future interior trends and is lightweight to be easily handled. The main parts of the product are egg-shape shell which serves as a working bowl and mixer cover, mixer blade and string-flywheel mechanism for rotation of the blade. The material from which it is to be made is injected moulded recycled plastic.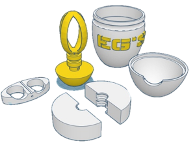 The intelligent clothespin: To arrange the drying process more easily, an intelligent clothespin has been developed. The clothes peg can measure the electrical resistant of the clothes that are wanted to be dried and detect the degree of drying. The user can examine this degree of drying and enter the desired goal (iron dry, cupboard dry …) via a web interface. The clothespin informs the user at the right time, when he/she can take down their clothes.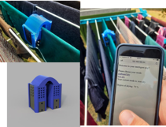 Smart lock: This innovative "smart lock" can be used for any object such as bikes, locker, motorcycle, etc. It will have LEDs that indicate when it is closed or open, a safety system that will close it after a pre-set time and a display that indicates the battery charge and it will open with your fingerprint. This padlock solves many problems including carrying keys with the risk of losing them and it is safer because it is much less tamper-proof since there is no way to enter.