Nocturiglow - The World's Most User Friendly Urinal Bottle
Nocturiglow - The World's Most User Friendly Urinal Bottle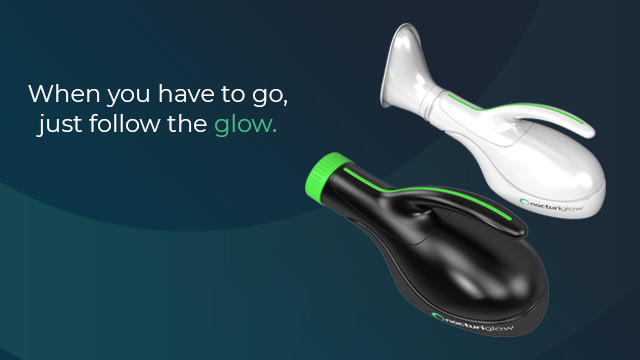 Description
Having mobility impairments is already a big pain by itself, but having to go through all the accompanying negative side effects makes life just so much more challenging. A need to urinate during the night happens to be quite an issue for 30% of the world's population and our main focus is to provide relief for such trouble.
Tao Tech LLC is a company dedicated to producing innovative solutions for improved life quality. All industries and all products can be further adapted to human needs. We want to revive creativity in non-creative and rigid industries, and bring in a new dimension to ignored medical products.
Night time urination issues can have far-reaching social, economic and health implications for patients, their families, society and caregivers:
• SPILLING ACCIDENTS - happen often while using a urinal bottle in the bed, due to darkness and low visibility.
• FALL RELATED INJURIES - during nightly visits to the toilet which unfortunately more than not cause fractures and injuries, especially by the elderly population.
• INSOMNIA - when the affected person has trouble to fall back asleep after being completely woken up by turning on the lights for safer use of the urinal bottle.
• DISRUPTED SLEEPING PATTERNS - not only for the affected person but also for the family member, assistant or caretaker.
Nocturiglow is a urinal bottle with an integrated phosphorescent element which glows in the dark. This enables the user to easily use the bottle even in conditions of complete absence of light. Nocturiglow is available in several color palettes, and thanks to our female funnel add-on, it is easy and comfortable to use for both sexes. We also thought of hygiene - Nocturiglow is very easy to clean and maintain sterile.
Why Nocturiglow?
We have experienced the problem, we understand it. Our buyer will appreciate the extra effort, the user-oriented commitment that considers not only the function but also the emotions deriving from using a product often considered undignifying or shameful. On our path to rethink a dull and plain product, we created a simple, aesthetically pleasing and highly functional urinal bottle.
• SAFE AND EASY TO USE The integrated glowing element makes it easy to spot in the dark. The user-friendly design offers an ergonomic handle and a screw cap to prevent leakage and unwanted smells.
• DURABLE AND RELIABLE Our patented design packs sturdy and durable materials that will last for years. This urinal bottle is made out of HDPE plastic and is FDA approved. It's perfect for home use, medical facilities and senior care centres.
• DISCREET AND HYGIENIC Nocturiglow is easy to clean and is sterilizable. It's made from high grade medical materials that withstands all cleaning and sterilization procedures. The phosphorescent parts absorb light during the day and glow gently during the night for years, battery-free and without any maintenance.
• AESTHETICALLY PLEASING Although Nocturiglow is easily concealable under the bed, it's stylish design won't give you the feeling that you need to hide it. While redesigning the product, we put the same emphasis on functionality as well as on pleasing looks. This makes it beneficial for high grade medical and nursing facilities.
Competition
All these features make Nocturiglow outstanding compared to similar products in the market. While other solutions became a stigmatizing symbol of health issues, Nocturiglow is stepping in as a better looking, convenient, safe and clean companion in the night-time quests for relief. Our production relies on latest injection moulding and blow moulding technology that delivers a perfect product at more than reasonable price.
Video: https://www.youtube.com/watch?v=aHY5xr6e6yQ
Tao Tech d.o.o.
ivan@nocturiglow.com; www.nocturiglow.com
Benefits for supporters
Our solution is already recognized by the investors, like for example the Fil Rouge Capital, which invested 50.000 € in our entrepreneurial initiative. The product development based on additive manufacturing is very expensive, so in order to bring our solution to the people in need, we ask for your help. We have estimated the prototyping and starting production costs to be 60.000 €, meaning we still need 10.000 € to get rolling. These expenses cover the state-of-the-art production line based on injection moulding and blow moulding technology, which will ensure perfection of our product down to every detail. By involving latest technologies into the production, we will support clean and sustainable development through minimizing our carbon footprint. Your support is crucial at this point, because only together we can start bringing relief and good-night sleep to people. We appreciate your generosity, therefore each act of kindness will be appropriately rewarded. Once on the market, Nocturiglow will retail for 30€. As a supporter, you have the opportunity to receive our glowing bottle for a promotional price and if you decide to donate for Healthcare Facilities, we will ensure you get Nocturiglow for a minimal cost per piece, among other perks of course. PERSONAL MODEL: •20 EUR: 1 Nocturiglow bottle and funnel + digital voiding diary + Nocturiglow USB stick & pen. •100 EUR: 4 Nocturiglow bottles and funnels + personalized glow-in-the-dark imprint + digital voiding diary + sterilization tabs supply for 3 months + travel pack + Nocturiglow USB stick & pen. DONATION MODEL: Your purchase will be donated to a Healthcare Facility of your choice. You will receive a "THANK YOU" note with a photography of the whole nursing department and YOUR NAME will be highlighted in a new "TOP DONATIONS" section of our website. Besides you will receive 1 Nocturiglow bottle and funnel + digital voiding diary + Nocturiglow USB stick & pen for yourself as well. •200 EUR: 15 Nocturiglow bottles and funnels. •500 EUR: 50 Nocturiglow bottles and funnels. •1000 EUR: Exclusive donation pack - 150 Nocturiglow bottles & funnels distributed between multiple Healthcare, Rehab & Nursing facilities.
Author