3D fiber application and injection molding for manufacturing of load-specific lightweight structures
3D fiber application and injection molding for manufacturing of load-specific lightweight structures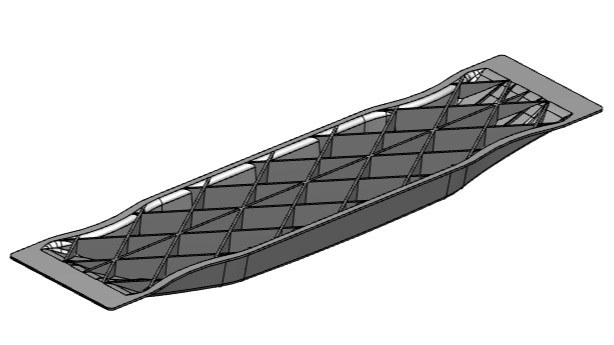 The aim of this project is to develop a 3D fiber application and injection molding for manufacturing of load-specific lightweight structures. The so-called "mass customization" has to be integrated into the lightweight constructions because further material savings can be achieved only by an individual load-appropriate adjustment of the construction of lightweight structures.
Technological innovation: Multifunctional laying/printing technology
- Laying of endless-fiber-reinforced thermoplastic impregnated tapes and printing of short-fiber-reinforced thermoplastics
- Innovative technology combination using 3D fiber application for local
integration of thermoplastic reinforcement structures in injection molding components
- Large-scale production by using of synergy effects of injection molding and 3D fiber application
- Consideration of the whole product life cycle and so reduction of market entry barriers
We are experienced in research around the key technology of lightweight construction for more than seven years. Its activities focus on bringing together previously separate manufacturing processes and basic technologies from the fields of plastics, metals, textiles and smart systems to develop resource-efficient products and production processes.
We are looking for research partners (one researcher or a team) with expertise in planning, executing and evaluating non-destructive material tests at the technology demonstrator.
Analysis of the laminate structure:
· analysis of porosity
· examination of the wall thickness
· distribution of the fibres
· measurement of dimensions for internal and external geometric features
· In-situ strength (tensile and compression tests)
· Computer Tomograph (CT) - Imaging of the internal structure
· Analysis of the deformation behaviour
Elaboration of criteria, for drawing of conclusions, whether the component was manufactured reliably and without defects
Author
Submitted potential solutions/competence offers will be evaluated in line with the following criteria:
• References of the researcher / research team
• Experience in implementing research projects on similar subjects (at least 2)
• Research infrastructure at the disposal of the solution / competence provider
• Technology readiness level of the provided solution / impact on the overall result
• Cost / benefit analysis of the offer in case of commercial nature of the collaboration
• Location of the research partner and convenience of collaboration