Winners of the SYNERGY Pilot Action on Simulated Crowdfunding
Categories
Innovation Campaigns
Success stories
We are very delighted to announce the winners of our SYNERGY Pilot Action on Simulated Crowdfunding that took place in February 2020 as part of the introduction of our new crowd innovation platform.
The five winners of the Simulated Crowdfunding Pilot Action are the following campaigns:
1. TAFR – Autonomous Electrical Farming Robot
2. Nocturiglow - The World's Most User Friendly Urinal Bottle
3. MOMENT - Smart Jewellery for safe Sunbathing
4. 3D Printing of Scaffolds for Tissue Engineering
5. ACCELERATOR 55+ - Bringing Innovative Ideas to Life
The campaigns were fully supported on the new Synergic Crowd Innovation Platform (SCIP) in the context of our Pilot Action within the 7 regional workshops that were organized in our partner regions. The winners were rewarded with a voucher to the value of 2.000 EUR that could be used for different services to achieve the implementation of the respective crowdfunding campaign. Congratulations to the winners!
We thank all participants for their dedicated contributions with creative ideas and and we are looking very much forward to future campaigns and challenges on the SCIP!
Image: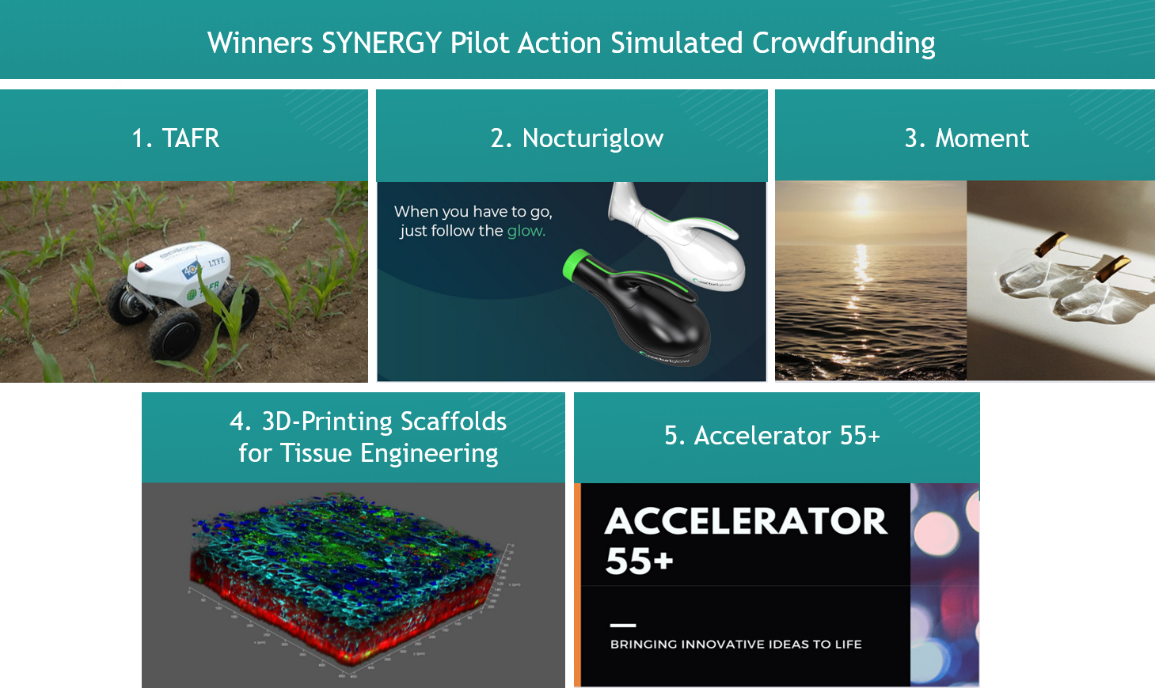 Copyright: © TAFR/Tao Tech LLC/Monika Šangulin/CC0/Simbioza Genesis social enterprise, adapted